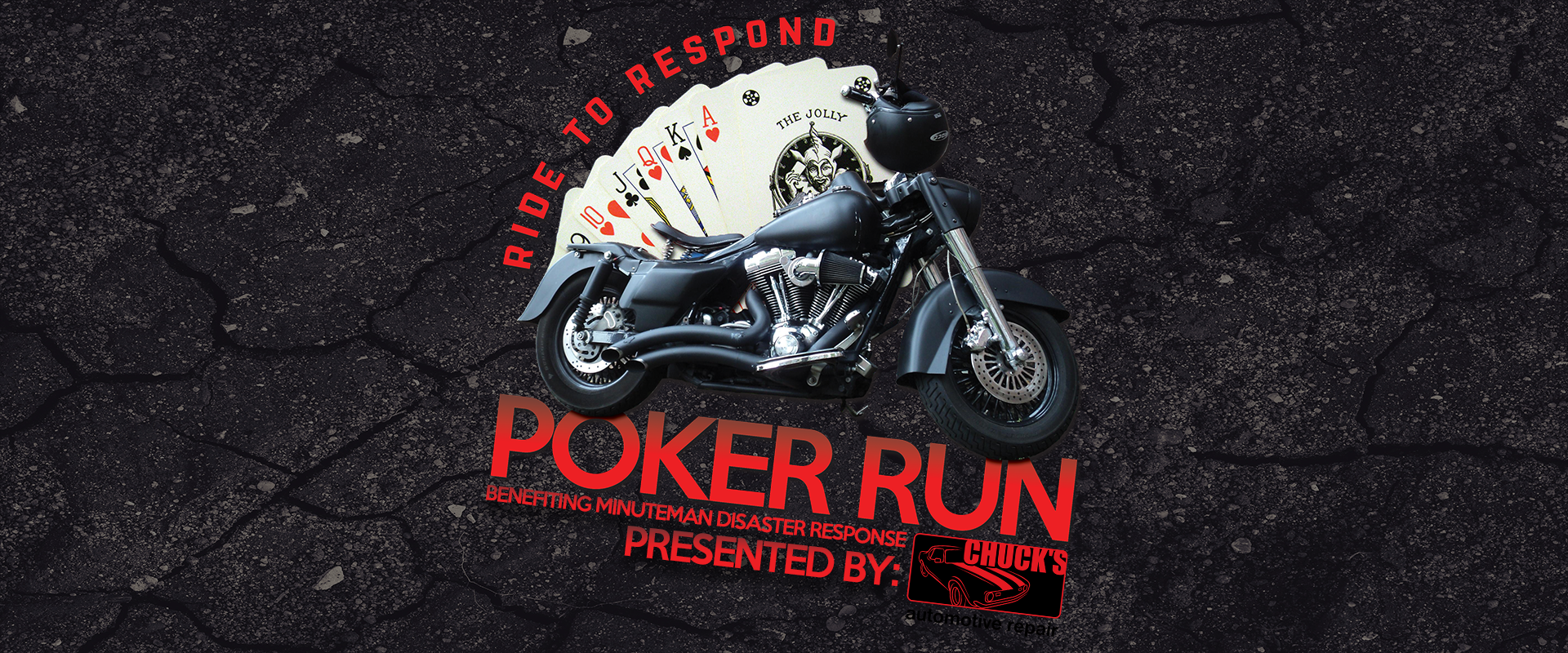 CANCELLED
Due to the forecasted weather, this event has been canceled.
Details:
The Ride To Respond Poker Run presented by Chuck's Automotive benefits Minuteman Disaster Response (MDR). MDR is a 501(c)(3) charitable non-profit based in McKinney, TX, and driven by volunteers serving Texas, Oklahoma, Arkansas & Louisiana in times of disaster. With a mission to "save lives and provide assistance in the immediate aftermath of a disaster", your support of the organization will enable them to respond before, during, and after the next natural disaster in our region.
WHEN:
Saturday, Oct 2nd
CHECK-IN:
9AM
RIDE DISTANCE:
130 Miles
TICKET PRICE:
$50
INCLUDES: 1 Scorecard, Hutchins BBW Lunch & Commemorative Merch
RULES:
Present your scorecard, then pick one card and lay it face-up on the table.
Participants must draw an additional card if an identical card was previously drawn.
If playing MORE than one hand, the participant must present the appropriate scorecard to be marked BEFORE each card is drawn.
In case of a tie, there will be a draw for High Card to determine the winner.
Aces count high for all hands
In a straight and Ace can count low or high, but not both
Prizes are awarded on the poker hand rankings, not on speed.
All decisions of the judges are FINAL!
POKER HANDS:
Royal flush – A, K, Q, J, 10, all the same suit.
Straight flush – Five cards in a sequence, all in the same suit.
Four of a kind – All four cards of the same rank.
Full house – Three of a kind with a pair.
Flush – Any five cards of the same suit, but not in a sequence.
Straight – Five cards in a sequence, but not of the same suit.
Three of a kind – Three cards of the same rank.
Two pair – Two different pairs.
Pair – Two cards of the same rank.
High Card – When you haven't made any of the hands above, the highest card plays. In the example below, the jack plays as the highest card.