On April 22, 2020, an E-3 tornado touched down in Jacinto County and continued east into Polk County, crossing Lake Livingston and damaging neighborhoods and structures in the city of Onalaska, TX. The NWS reports the storm's path was 32 miles, with winds of up to 140 mph, injuring 33 and killing 3. The storm damaged 291 homes and destroyed 49.
            Minuteman Disaster Response (MDR) showed up at the scene about a week later, with an organized team of 33 well-trained volunteers to begin the process of clean-up.
Randy Rogan, a long-time Minuteman volunteer of about 4 years, was on the team deployed to Onalaska, and said the damage there was "absolutely catastrophic."
"We were dispatched to a homesite and I was the navigator," he said. Rogan has been on about 8 deployments with MDR. "As we came down the street littered with debris, I was looking for the correct [home.] We found addresses before and after the address we were seeking, but then we realized the lot where we stopped — totally covered with debris and no home — was our address. We talked later to the owner, and her husband and kids were there [during the storm], and she was at work. They were able to get out before the storm hit and nothing was left."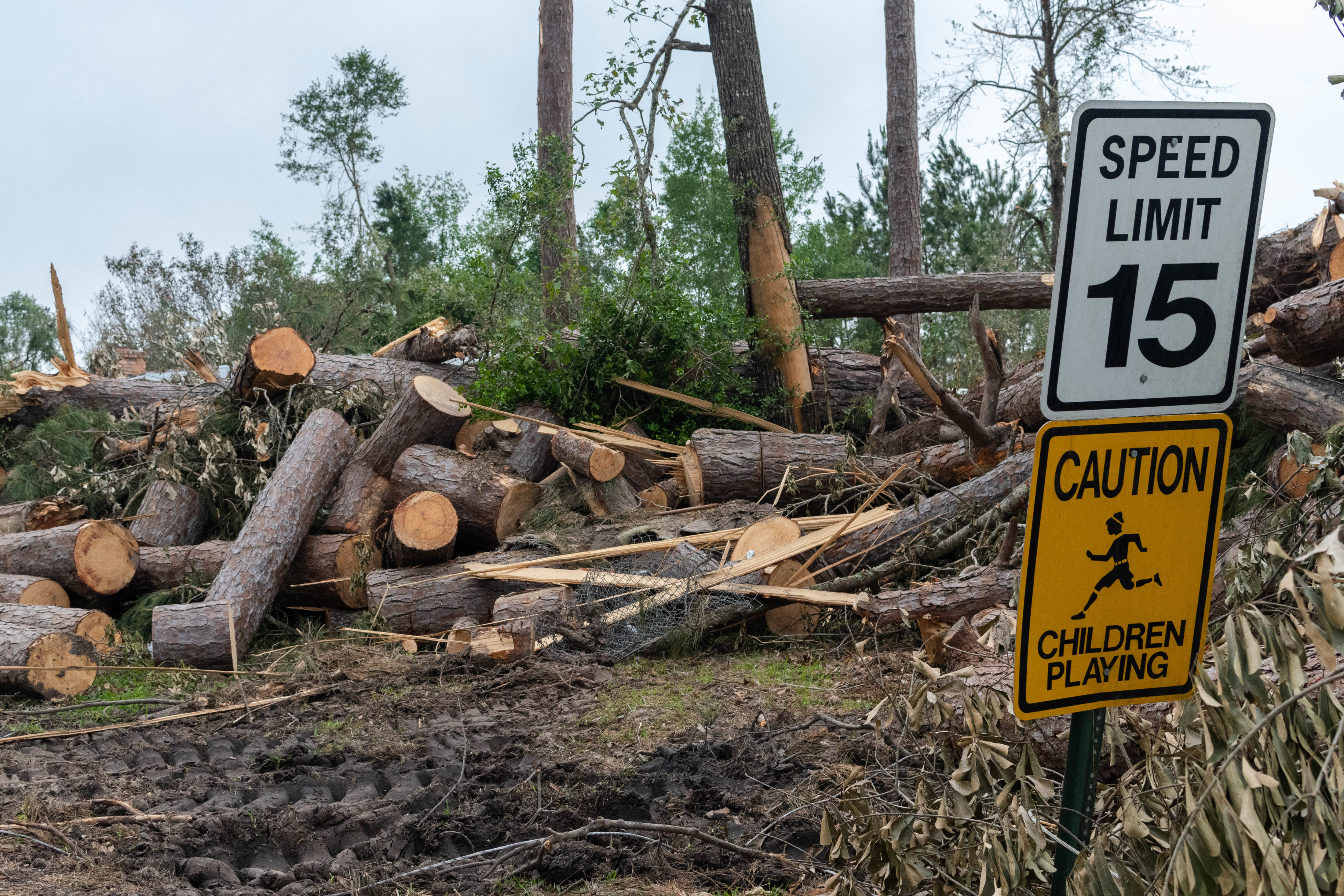 The MDR team stayed and worked for 2,272 man-hours, clearing damaged trees and debris, cleaning up homes, and doing what they could to help the Onalaska community get back to normal as best they could. This deployment was during the beginning of the COVID-19 pandemic, which presented its own set of challenges. Typically, Minuteman Disaster Response brings their own sleeper trailers for the crew to spend the night in, but due to COVID-19 safety protocols, the team set up camp in a local church. Rogan said other than taking these necessary precautions, their deployment was not greatly affected and they were able to carry out their work as usual.
            Gina Calvert, a Minuteman volunteer of one year, said one story, in particular, stood out to her while deployed in Onalaska. During the storm, this lady stood in her doorway and rebuked the storm in the name of Jesus.
"The only damage on her property was the tops of the trees broken off and her boat flipped, while the only thing left on her neighbor's property was the kitchen table and a closet — that resident survived!" Calvert said. "It was humbling to see the gratitude and faith of those who suffered loss, and amazing to see how many people pour into the area to help. Many people rejected help because their neighbors needed it worse."
            Rogan also shared an impactful story he heard from the deployment.
"A block over from where we were working I saw the remaining walls of a house that had been hit by the storm and a partial roof," Rogan said. "Someone locally there told me that a family was having a barbecue outing the day of the tornado and as it approached they all went inside and gathered into the kitchen area. It was a mother and father and some children. As the storm came over, one of the man's young sons came up to him and the father put his arm around the head of his son as they were sitting in the kitchen through the storm. All of a sudden a piece of wood pierced through the roof down through the kitchen cabinets and hit the father in his forearm that was shielding his son. It broke the father's arm but the son was safe because his father was shielding him. It could've been tragic. Just another story of God's grace and protection!"
            Many, if not all, Minuteman volunteers come away from deployments with amazing stories, and a humbled heart. Calvert said she loves deployments such as Onalaska, because it feels rewarding and refreshing to do hard, manual labor — something you don't often get the chance to do — while helping families who have just been through a devastating event.
            "You never have to do more than you're capable of, but I don't typically do manual labor like that and I found that you get out of your head and can't worry about any of your own problems," she said. "It's hard work but I felt joy doing it — being outdoors, working shoulder to shoulder with a team, accomplishing something so important for devastated people."
            MDR volunteers are not only organized and prepared to show up and respond to disasters, but many also have the proper training to use heavy equipment to get the jobs done quickly and more efficiently.
Calvert added, "Tree removal is AMAZING. Without a team like Minuteman, your average person is completely helpless to do this on their own."
            Both Calvert and Rogan spoke about the exceptional leadership of Minuteman.
"It's a first-class operation in every way, and I appreciate the spiritual perspective they bring to our work," Calvert said. "Matt, [the Executive Director,] says, 'We're not just dragging brush off someone's property, we're bringing the hope of Jesus into their lives.' I found, however, that the 'victims' were blessing me and I experienced firsthand how the Lord is with the broken-hearted. It's good for your own soul and I encourage everyone to try it."