As the Minuteman Team enters its 3rd week deployed in Lake Charles, LA, we wanted to look back on those who have served the survivors of Hurricane Laura.
With destruction as far as the eye can see and no timeline for the return of power, the few residents that have running water sleep at night to the sound of humming generators.  But during the day there is a different hum in the air; the sound of chainsaws ripping through downed trees and skid steers moving colossal amounts of debris to the road.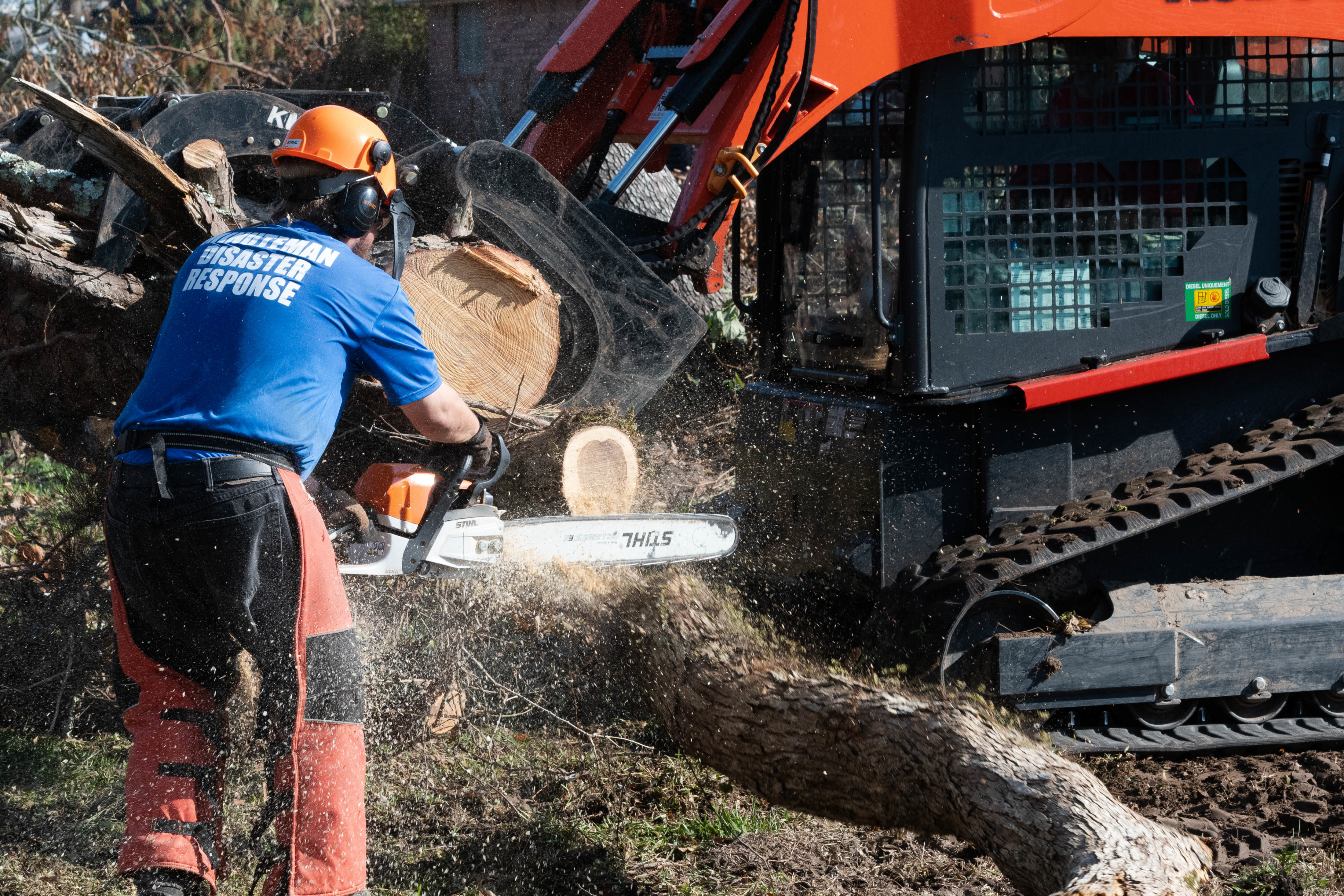 "I recall with every job that we arrived at, thinking 'We are going to be here the rest of the weekend. This job is way bigger than expected,'" Lawrence Thornquist, a brand new member to the Relief Team, said about his first deployment.  "I recall a feeling at one job, like someone was saying, 'Stand back kid, and watch the mighty hand at work.'  What I thought would take 5-8 hours, was completed within 90 minutes.  I got back in the truck in a state of awe.  I know I watched it and participated in it, but I can't comprehend how it happened. Then we pulled up to the next job, and it happened again."
When asked about the team, Lawrence said, "Each individual that was on the Minuteman team, acted in an exceptional manner it would not be out of place to point out how each team member went above and beyond.  But when so many amazing things are happening at the same time, the entire time, it becomes obvious that God uses Minuteman.  How much He loves us, so much that He even lets us see His hand at work.  I give Him alone the praise."
"Seeing all the devastation and knowing that each wrecked house holds a family with shattered lives gives me purpose to reach out to others that are so much less fortunate than me," Sharon Watts said.  "I need this opportunity with Minuteman to build my character."
"While deployed the Minuteman team members treated each other like family," Greg Story recalled.  When asked about any specific team member he said, "Stan Waite; not only did he work hard sawing, he instructed on how to do things safely and more efficiently.  He checked on the health and well-being of each teammate."
As volunteers come and go from Minuteman's basecamp there is always plenty of work to be done.  Over 4,000 homes have been entered into the Crisis Cleanup database, where other disaster response organizations can work together on relief efforts.
Now on day 15, the Minuteman Team has seen 40+ volunteers come forward to serve and push through the heat to help as many residents of Lake Charles as possible.
If you would like to support MDR and their response to Hurricane Laura, you can DONATE or VOLUNTEER.