On the evening of Friday, December 10, 2021, a severe storm system moved across the central United States, bringing strong winds, heavy rainfall, and record-breaking tornadic activity. According to weather.gov, the storm system produced a long track E4 tornado that touched down in northwest Tennessee and moved across west Kentucky, staying on the ground for 128 miles, leaving approximately 165.7 miles of destruction in its path.
           Although meteorologists did forecast a high possibility of a strong storm in advance, the level of death and destruction was catastrophic. The record-breaking tornado killed 77 people in Kentucky alone and obliterated about 15,000 structures, including thousands of homes, historic buildings, large and small businesses, factories, and anything else in its path.
            One of the areas in its path was the city of Mayfield in western Kentucky. This small city, located in Graves County, is home to about 10,017 people. This E4 tornado was estimated to be strongest as it swept through Mayfield, killing 22 people. Some of them worked in a candle factory when the tornado swept through the warehouse, completely flattening the structure and killing 8.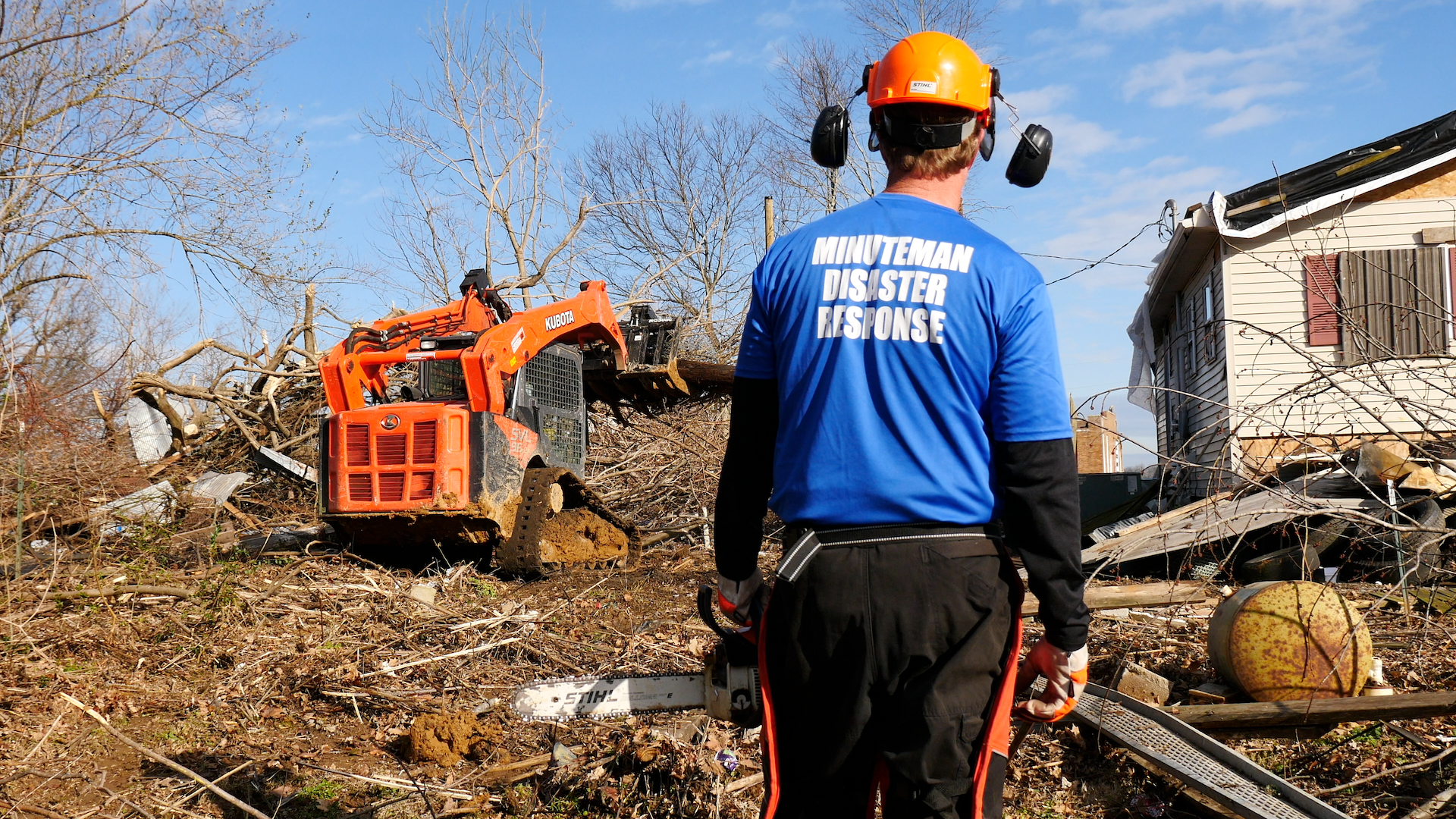 As soon as the storm weakened and eventually broke up, relief efforts from all over the region started showing up to help start the long recovery process. Exactly one month after the storm, on Monday, January 10, fourteen volunteers with Minuteman Disaster Relief traveled to Mayfield to help continue recovery efforts in the area.
           One of the 14 volunteers, Minuteman's Deputy Director of Response Operations, Jeff Spelman, said that upon arriving, it was easy to see the tornado's precise path as it had plowed through the area.
           "The affected areas in Mayfield and Southwestern Kentucky were devastated and in stark contrast to relatively unaffected neighborhoods just two or three blocks away from the tornado's path." This was Spelman's 8th deployment with Minuteman.
           Although it had been a month since the storm, debris, fallen trees, collapsed homes, and general destruction still scattered Mayfield.
            "We would mobilize each morning after a briefing and head out in one or two teams to clear debris and fallen trees from homesites," Spelman said. "We typically ended the workday around sunset and then serviced and cleaned our equipment in preparation for the next day."
            Over the course of 5 days, the Minuteman team served 1,680 man-hours, clearing trees, debris, and damaged structures in Mayfield.  Spelman said his time with Minuteman had provided a unique opportunity to serve those in need and to reflect God's light to others through storm relief work.